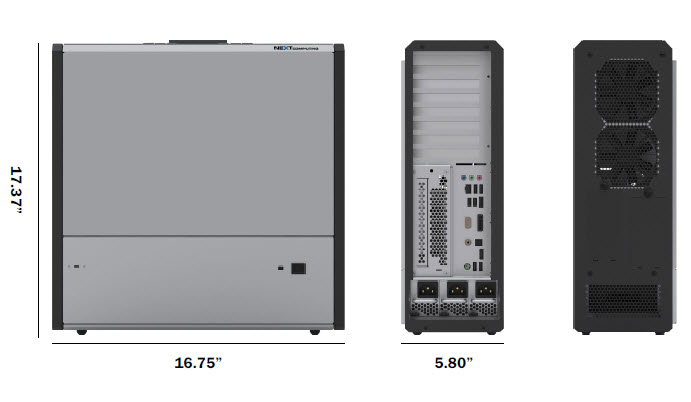 NextComputing, manufacturer of small form-factor servers and workstations, announces the Nucleus Server, the newest member of its Nucleus family of compact computers. The Nucleus Server is a small pedestal server optimized for full-scale server deployments that require a mix of virtualization, high-speed networking, and enterprise-level storage. Unlike traditional servers, the Nucleus Server takes up only half the space, while offering performance on par with much larger systems.
While enterprises are always looking for ways to reduce the cost of running their datacenters, there is a limit to how much space and power can be freed up with traditional rack-mount systems. Many businesses that don't need a full rack cabinet often opt for tower servers which can be easier to reconfigure or relocate when needed. However, most tower servers are still quite large, and moving them more than occasionally is still not practical. Also, many tower servers lack redundant power or integrated storage on par with rack-mounted solutions.
The Nucleus Server solves the shortcomings of traditional tower servers when it comes to reliability, portability, and performance. For companies that need access to server hardware from anywhere, the Nucleus Server offers the smallest form-factor available, including a convenient handle for easy portage. This can be especially useful for companies that need to run high-end software away from the office, such as conducting sales demonstrations or proof-of-concept installations. In cases where complex applications using multiple virtual machines must be utilized, the Nucleus Server is the ideal alternative to under-performing laptops or shipping bulky servers to a customer site.
While cloud services and WAN are popular for things like email or simpler business software, many branch offices must still use their own servers for more complex applications needing the performance only local hardware can provide. Also, for emergency situations, a disaster recovery plan may require physically moving servers off-site. The Nucleus Server can easily be moved from facility to facility, ensuring that critical applications and data remain intact.
Smaller offices can benefit from the Nucleus Server's compact size as well. Taking up minimal space, the corner of an office or storage room can be made into an efficient micro datacenter. And unlike many tower servers, particularly those based on a desktop PC design, the Nucleus Server features fully redundant power using a 1300 Watt 2+1 hot-swappable power supply.
Technical specs:
A compact and space-saving mini-tower chassis: 17.37" H x 16.75" W x 5.80" D
Dual Quad-Core or Six-Core Intel® Xeon® processors, or single Intel Core™ i7 processor
Up to 96GB DDR3 unbuffered ECC memory
Up to (14) 2.5" removable or fixed hard drives, either SATA, SAS, or SSDs, including RAID 0/1/5/6/10
Robust virtualization support including VMware vSphere and ESXi, Microsoft Hyper-V, and Citrix XenServer
Redundant 1300W 2+1 hot-swappable power supply module
Optional 48V DC input 1300W redundant power supply
The Nucleus Server is available now from NextComputing and its authorized resellers. Please call +1-603-886-3874 or email Sales(at)NextComputing(dot)com for more information.