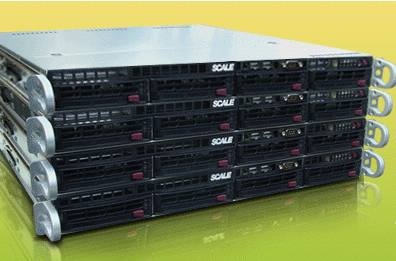 VMworld US 2012
Booth #1941
Scale Computing, the leading provider of seamlessly integrated IT infrastructure for small to medium-sized organizations, today announced at VMworld 2012 the availability of HC3 – the easiest, most affordable virtualization system for midsize companies. With no virtualization software to license and no external storage to buy, HC3 lowers out of pocket costs by as much as 75 percent and radically simplifies the infrastructure needed to keep applications running. HC3 makes the deployment and management of a highly available and scalable infrastructure as easy to manage as a single server.
"After five years in the scale-out storage business, we're expanding our role in the datacenter with HC3," said Jeff Ready, CEO of Scale Computing. "This was our vision for Scale Computing from the very beginning. From our roots as midmarket IT guys ourselves, we understand the frustrations of complexity, management and costs associated with a virtualization deployment – and why less than one-third of these 1.5 million midmarket companies have virtualized. HC3 removes all of the complexity of managing a virtualized environment, eases the challenges of working with multiple vendors, and enables IT departments to actually focus their time on the applications making their companies profitable. We built our company, our culture, and HC3 specifically to solve the problems these customers have."
Scale Computing has transformed their affordable scale-out storage cluster into a hyperconverged solution that combines servers, storage, and virtualization into the industry's first product that delivers virtualized infrastructure-as-an-appliance. As a fully integrated appliance, HC3 eliminates the need to purchase virtualization software, external servers, and shared storage – resulting in significant reductions in both costs and complexity. As a scale-out solution, additional compute or storage resources can be added to a cluster within minutes, with applications and data failing over between nodes in the event of equipment failure. "The result is a turnkey method to deploy a modern infrastructure," said Ready "Gone are the days of pulling together a collection of hardware components and software licenses. For our customers, HC3 delivers a new kind of solution with fully integrated hardware and software. Applications can be deployed in minutes, in a scalable and highly available environment, that eliminates the need to license VMware, purchase a SAN, or buy traditional servers. HC3 is a cloud architecture, delivered as an appliance, that provides radical ease-of-use and flexibility for IT administrators."
"Scale Computing has seamlessly blended compute virtualization and storage management together to such a degree that they've reduced virtual server configuration time by 8x compared to traditional vSphere infrastructures, and all but eliminated the need for virtualization expertise," said Jeff Boles, Senior Analyst Sr. Analyst and Director of Validation Services at the Taneja Group. "In our assessment, HC3 may take as little as one-tenth the effort to set up and install compared to traditional infrastructure, one-fourth the effort to configure and deploy VMs versus traditional infrastructure, and can eliminate the planning, troubleshooting, and reconfiguration exercises that can consume as much as 25 to 50 percent of IT administrator time in the midmarket."
With over 20 customers and partners participating in the beta program over the past three months, HC3 users are touting the simplicity and cost savings. "HC3 makes the architecture—for storage and for virtualization—much simpler than what other vendors are currently doing, at a much lower price point," said Jefferson Davis, Technology and Information Systems Manager at Standard School District in Bakersfield, CA. "HC3 saved us about 75 percent of what the other solutions quoted us for storage, licenses and additional servers. And, we looked at all of the 'usual suspects' before finding Scale Computing's HC3."
Ideal for first-time virtualizers and small IT departments, a complete 3-node HC3 cluster capable of 15 – 30 virtual workloads starts at under $25,500 and includes all necessary servers, storage and virtualization, along with 24×7 premium support. For a complete HC3 demo, visit the Scale team at VMworld 2012, Booth 1941.