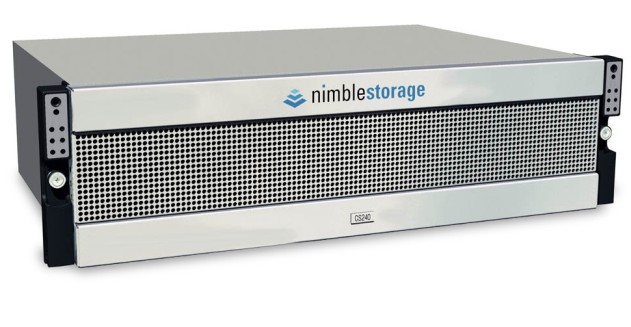 Capacity Optimization Helps Firm Tame Growing Sharepoint Stores and Unstructured Data

SAN JOSE, Calif.: Nimble Storage, developer of the first converged data storage and backup solution, today announced that global law firm Howard Rice has significantly reduced its total cost of operation (TCO) for enterprise storage with the adoption of the Nimble CS240 converged storage and backup array. The law firm, which has seen both its unstructured data and cumulative data storage grow at over double-digit rates per year, cites the capacity optimization of the CS240 as the key factor in controlling storage costs, even while driving significant performance gains in access to its Microsoft SharePoint data stores.
Howard Rice stores "key discovery data," comprising information and images about cases currently in litigation, using Microsoft SharePoint and file shares containing more than 4.5 terabytes of active-case information and significantly more inactive-case information residing in near-line storage. With the amount of unstructured data burgeoning, that challenge had become problematic, and yet the data had to be rapidly accessible by lawyers and easily manageable by storage administrators. For Matthew Reynolds, CIO at Howard Rice, this need called for a new approach to managing the ever-growing terabytes of corporate data in his charge and a better solution for managing TCO.
Reynolds found the solution to his challenge in the CS240. Nimble's CASL architecture, featuring inline compression, thin snapshots, and flash-accelerated performance, provided Howard Rice the capacity and performance edge it required. "We knew there was quite a lot of duplication in our SharePoint repositories and unstructured file shares, and we were looking to take advantage of the capacity optimization that Nimble promised. When we parked our data on the Nimble array, the initial results were impressive. Virtually immediately, we began to see considerable reduction of storage in our unstructured data, which consists of files in many native formats used in legal cases."
Designing Storage for Efficiency
Reynolds found the new regimen for managing SharePoint data to be a natural fit for Nimble. "Our SharePoint environment is highly read only," he said. With growing amounts of published data, his team has successfully leveraged the Nimble array's SSD technology to maximize speed of data access. The firm also uses the CS240's zero-copy cloning capacity, which enables entire storage volumes to be cloned with no requirement for additional storage.
Reynolds and his team had already virtualized their SharePoint environment, and the move of SharePoint data to Nimble has set the stage for a longer-term approach to virtualization. Reynolds' team found that the CS240's intuitive graphical user interface made storage setup for virtualized servers a routine operation.
With offsite storage serving as the company's disaster recovery repository, Reynolds also faced the challenges of replicating the firm's key discovery data. Moving to the Nimble CS240 has overcome issues the firm had experienced with an alternative disk-to-disk data replication solution. With one CS240 now replicating to another, offsite CS240, Reynolds calls initial performance numbers "impressive and promising."
"I had a pretty good idea that the performance would be as good as the platform was innovative," he said.
With the aid of the Nimble CS240, Howard Rice today runs its storage operations on a significantly lower budget, and with the same reliability and much higher performance, than its former storage systems. With budget and performance in line with the firm's demanding requirements, Howard Rice is now rethinking its virtualization strategy. As the firm makes the move to either of the industry's most popular virtualization platforms, VMware or HyperV, the Nimble CS240 will support the move.
Revolutionary Flash-Based Architecture
Nimble Storage's CS-Series is based on the company's patent-pending architecture, Cache Accelerated Sequential Layout (CASL™), which enables fast inline data compression, intelligent data optimization leveraging flash memory and high-capacity disk, instant optimized backups, and WAN-efficient replication — all in a single device. CASL allows organizations to reduce their capital expenditures for storage and backup by at least 60 percent, while eliminating the need for separate, disk-based backup.