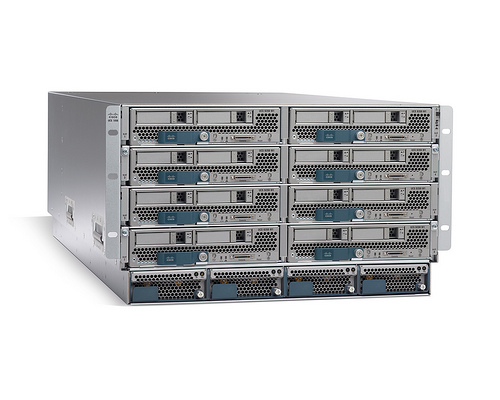 NetScout Systems, Inc. today announced the nGenius Integrated Agent for the Cisco Unified Computing System™ Express (UCS Express) platform. A virtualized implementation of the widely deployed nGenius Probe technology, the nGenius Integrated Agent seamlessly extends high-definition packet-flow monitoring and analysis capabilities into networking and compute platforms to provide valuable, always-on insight into service performance, user experience and to identify security threats closer to the point of a user's service consumption. This announcement also represents the continued momentum of the Cisco-NetScout technology relationship.
Cisco UCS Express is a converged computing, virtualization, and networking platform for hosting essential infrastructure services and mission-critical business applications in the lean branch office. Leveraging the Cisco UCS Express platform as an intelligent instrumentation point, nGenius Integrated Agent eliminates the need for dedicated, standalone network-based monitoring hardware – dramatically reducing capital and operational costs associated with achieving visibility in remote branch locations. The greater visibility at the network edge and in remote offices enabled by the combined NetScout and Cisco solution helps organizations realize more value from their existing technology investments to simplify the management of IP service delivery and improve user experience by broadening an IT organization's visibility into end-to-end service delivery.
Part of a Unified Solution
The nGenius Integrated Agent for Cisco UCS Express monitors and performs real-time deep packet analysis (DPA) of all network traffic traversing the Cisco UCS Express platform. This provides visibility into site-to-data center, site-to-cloud and site-to-site service traffic. The nGenius Integrated Agent feeds high-definition application and network performance measurements into the nGenius Service Assurance Solution, which combines metrics from nGenius hardware and software-based intelligent data sources distributed across the service delivery environment for real-time and historical analysis and reporting. The joint Cisco and NetScout solution helps simplify managing today's borderless enterprise with pervasive and unified end-to-end visibility, from the data center to the branch office, to assure business service continuity and the user experience.
By achieving service-level visibility in the branch, IT staff can obtain farther reaching real-time operational status with intelligent early warning of emerging performance and security issues. In addition, local visibility simplifies and speeds remote troubleshooting, minimizing need for technician dispatch –dramatically reducing the time and expense of problem resolution. This in turn enables the IT organization to more efficiently optimize service delivery, predict and prevent performance issues and speed problem resolution in context with the overall service delivery environment.
Since NetScout introduced its virtualized probe technology in 2010, which includes nGenius Integrated Agent and nGenius Virtual Agent, over 2,000 virtualized probes have been shipped for deployment in customer networks. The largest single deployment of nGenius Integrated Agent is more than 110 agents deployed in a single company, across a multi-location network; and the largest single deployment of nGenius Virtual Agent is more than 300 agents deployed in individual virtual servers across a single company. This solution is ideal for highly distributed organizations, such as finance, retail, government, healthcare, energy, utilities and manufacturing industries with multiple branch and remote offices.
"The increasing convergence of IT services and infrastructure drives the need for a more unified and automated approach to managing service delivery. With the emergence of the lean branch-office architecture, the IT organization needs pervasive visibility that is consistent end-to-end across the enterprise network to assure service delivery for all applications and users," said Steven Shalita, vice president, marketing, NetScout. "By leveraging the service hosting capabilities of Cisco's UCS Express, NetScout is removing the operational and cost obstacles that have traditionally limited the IT organization's ability to monitor branch office locations. Consequently, more pervasive visibility enables the IT organization to achieve a truly global perspective of its service delivery environment to enable a better view into actual user experience and simplify the end-to-end management of IP service delivery."
Availability
The nGenius Integrated Agent for Cisco UCS Express will begin early field trials in December 2011, with general availability planned for late Q1 2012 tied to the actual availability of Cisco's release of SRE-V v2 software. Please contact NetScout or a NetScout authorized reseller for more information.
NetScout Systems, Inc. is the market leader in Unified Service Delivery Management enabling comprehensive end-to-end network and application assurance. For 27 years, NetScout has delivered breakthrough packet-flow technology that provides trusted and comprehensive real-time network and application performance intelligence enabling unified assurance of the network, applications and users. These solutions enable IT staff to predict, preempt and resolve network and service delivery problems while facilitating the optimization and capacity planning of the network infrastructure. NetScout nGenius® and Sniffer® solutions are deployed at more than 20,000 of the world's largest enterprises, government agencies, and more than 148 service providers, on over one million physical and 2,000 virtual network segments to assure the network, applications, and service delivery to their users and customers.