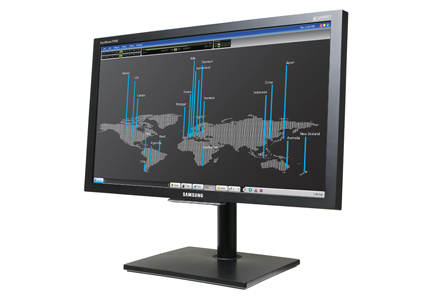 New LED Backlit TS- and NS-Series Cloud Station Monitors Provide PC-Free Access to Servers and Data Centers, Driving Enterprise Cloud Computing Adoption at VMworld 2011 – Samsung Booth #600
LAS VEGAS: Samsung, today announced its newest lines of LED/LCD thin- and zero-client PC-over-IP Cloud Station monitors, which provide an alternative to desktop PCs, enabling highly secure access to any PCoIP-enabled remote host. The new TS190, TS220 and TS240 Thin-client monitors and their NS190, NS220, NS240 and NC220P Zero-client counterparts will be on display at VMWorld 2011 in Las Vegas August 29 – September 1 at Samsung Booth #600.
"The new TS-Series and NS-Series Cloud Station monitors continue Samsung's dedication to innovation within the enterprise market and offer organizations a highly efficient means to enter the developing desktop virtualization space," said Young Bae, director of display marketing at Samsung Electronics Enterprise Business Division. "These new models reduce the burden on IT management and enable workstations to leverage the power and speed of the company's server, while reducing overall energy costs and creating a seamless, clutter-free work environment."
Easy Cloud Management and Maintenance
The NS-Series Cloud Stations are true zero-client (PCoIP) displays, allowing connections direct from the desktop display to a central host. These monitors eliminate the need for a local CPU, memory and storage at each workstation. This flexibility also reduces maintenance costs as all software and hardware components installed on the server automatically extend to each user's desktop.
The NC220P feature Cisco's Universal Power Over Ethernet (UPOE) technology, which not only provides access to the network and software on a central server, but also powers the device. The Cisco UPOE can supply up to 60 watts of power over Ethernet, nearly twice as much as currently existing technologies.
For enterprises needing more support from their workstations, the TS-Series Cloud Stations offer thin-client functionality and include processors, graphics cards and embedded operating systems like Windows® Embedded Standard 7 and Citrix Zero Client Operating System. These hardware components are conveniently hidden in the base of the monitor to maintain the overall minimalist appearance.
Leading the Way through LED
Continuing Samsung's LED backlit display line-up, the new TS- and NS-Series Cloud Stations feature new LED BLU technology, which offers the high-quality brightness and picture clarity customers have come to expect from Samsung.
By incorporating LED BLU, the Cloud Stations maintain a high contrast ratio and dynamic picture quality, while reducing the overall impact on the environment. The monitors are also mercury and halogen free, making them a better selection for eco-conscious organizations.
Ergonomic Excellence and Intuitive Efficiency
Available in 19-, 21.5- and 24-inch models, both the TS- and NS-Series Cloud Stations are designed to seamlessly blend into any office interior with a minimalist appearance, and offer a variety of ergonomic options for more comfortable use.
A wide, 170-degree viewing angle and Samsung's Magic Angle technology allows for easy viewing of the screen – no matter the vantage point – and the 150mm height-adjustable stand enables users to comfortably place the display at a height and tilt suited to their viewing needs. Lastly, a 90-degree pivot function and wall-mounting capability make them ideal for specialized workplace environments like education, government and financial institutions.
Tactile selection and function buttons are also incorporated into the design, making it easy to adjust settings and power the monitor on and off. A single button press can power off the monitor and server connection, making energy conservation a simple and easy process, and, because the buttons are placed on the front of the display, the Cloud Stations can be mounted to walls without sacrificing access.
Price and Availability
The new TS-Series Thin-Client (TS190, TS220, TS240) and NS-Series Zero-Client Cloud Station Monitors (NS190, NS220, NS240) will be available in Q4. Pricing will be announced closer to availability. All Samsung monitors can be found at select Samsung resellers and channel partners.
*All functionality, features, specifications and other product information provided in this document including, but not limited to, to benefits, design, components, performance, availability and capability of the product are subject to change without notice or obligation.
[table id=7 /]
[table id=8 /]