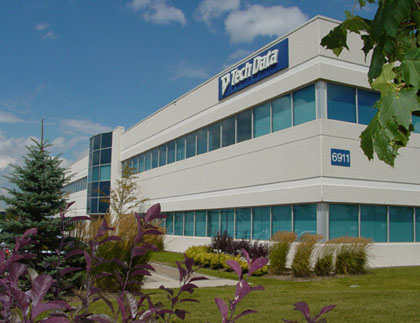 Tech Data Corporation today announced that it has partnered with VMware to deliver VMware vSphere® 5 to its channel of over 60,000 resellers in the United States. VMware vSphere 5 is available for live, remote, or virtual demos at Tech Data's onsite VMware Transformation Center, providing resellers with expert-led sales and technical training to differentiate and optimize their businesses through offering virtualization and cloud computing solutions based on VMware technologies.
"We are excited to add VMware vSphere® 5 to our virtualization offering in Tech Data's Advance Infrastructure Systems (AIS) group," said Amy Belcher, Vice President of Virtualization and Storage Product Marketing at Tech Data. "VMware vSphere 5 is one of the industry's most complete platforms and will enable our resellers to provide their customers with an efficient, simplified virtualization opportunity. We are also pleased to offer the VMware Transformation Center as a resource for both our resellers and their customers to experience the latest technology from VMware and other leading IT vendors."
The VMware vSphere 5 virtualization and cloud infrastructure platform creates increased efficiency through utilization and automation, lower capital and operating costs, and quick responses to business needs without sacrificing security or control. VMware vSphere 5 and the company's cloud infrastructure suite are supported by more than 25,000 partners, including technology partners, independent software vendors (ISVs), solution providers, service providers, and systems integrators, as well as every major global hardware manufacturer, helping users effectively respond to the growing needs of their business and gain confidence in their IT transformation.
"VMware vSphere® 5 presents an immediate opportunity for VMware partners to capitalize on the growing interest in cloud computing by building secure, private clouds for their customers," said Doug Smith, Vice President of Global Partner Strategy and Operations at VMware. "In the VMware Transformation Center, Tech Data is showing resellers how VMware technologies can deliver cloud computing solutions for existing data centers, helping to dramatically increase efficiencies and business agility."
The VMware Transformation Center is housed in Tech Data's onsite Solutions Center, offering resellers the opportunity to demonstrate products and services from over 120 manufacturers and software publishers. Located in Tech Data's corporate headquarters in Clearwater, Fla., the Solutions Center features a 6,000 square-foot proof-of-concept IT solutions lab with over $5 million in IT products. Hosting over 300 visitors each month, the Solutions Center also offers technology seminars, hands-on training, and classroom instruction.
VMware product demonstrations currently available in Tech Data's Solutions Center include VMware vSphere and VMware vCenter™ Server, VMware View™, Trend Micro Deep Security and VMware vShield™ Endpoint, Cisco Nexus 1000v Distributed Switch, VMware vCenter Site Recovery Manager™, VMware vCenter CapacityIQ™, VMware vCloud® Director, VMware vCenter Chargeback™ and VMware Zimbra®. Demonstration of the EMC VNXe series, an ideal fit for small- to medium-sized businesses, is also available through the Solutions Center. The EMC VNXe series serves as the virtual storage platform for VMware vSphere 5 and integrates with VMware vCenter Server.
"Tech Data's VMware Transformation Center has given us the opportunity to learn about and explore VMware vSphere® 5 and other VMware products, enabling us to better educate and partner with our customers," said Andy Jones, Group President, Advanced Technologies Group at MCPc. "The Solutions Center is a valuable tool for us to help our customers see firsthand which solutions are right for their businesses, dramatically reducing the time from envisioning the solution to reality. We have also leveraged The Solutions Center to display the integration of VMware and the EMC VNXe series."