Talari Technology Allows Enterprises to Augment or Replace Private WAN Connections such as MPLS by Enabling 99.99 Percent Reliability using Public Internet Connections
SAN JOSE: Talari Networks today announced the addition of the Mercury T750 appliance to its family of Adaptive Private Networking (APN) products for WAN Virtualization. Aimed at mid-sized enterprises with up to 24 remote sites, the T750 provides business-class (99.99 percent or greater) reliability & predictable performance by using inexpensive public WAN links. As a result, enterprise WAN customers gain 30 to 100 times the bandwidth per dollar; can reduce monthly WAN service costs by 40 percent to 90 percent, and have greater reliability and application performance predictability than existing private WANs that use single-provider Frame Relay or MPLS services.
The T750 is designed for deployment in the data center for enterprises with up to 24 remote offices or within larger deployments with regional data centers or colocation facilities. It works in concert with Talari's T730 appliances deployed at branch office sites, Talari's T200 appliances deployed in small office / home office locations, and Talari's T3000 appliances at larger data centers.
The T750 is a 1U rack-mountable appliance that supports WAN bandwidth aggregation up to 120 Mbps downstream / 60 Mbps upstream even while doing 128-bit AES encryption. It runs the same APN software as the existing T3000 data center appliances but in a smaller form factor and at lower cost.
T750 specs include:
9 User configurable GE ports
2 Bypass port pairs
1 Management interface
High-Availability configuration with 2 units
Solid state disk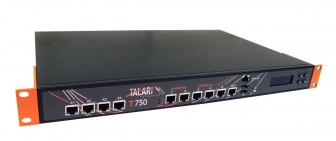 "Many enterprises that have deployed WAN Optimization solutions are now looking for the next technology to further improve application delivery and to reduce costs," said Michael Kennedy, principal at Network Strategy Partners. "For these and other enterprises, Talari's technology is the logical next step, as it enables enterprises to inexpensively add bandwidth, reliability and application predictability for all applications, including real-time applications, such as VoIP and Virtual Desktop Infrastructure (VDI)."
"For years, enterprise IT managers have been dependent exclusively on expensive Frame Relay or MPLS circuits for their four nines reliability, even though public Internet connectivity has been widely available at a fraction of the cost," said Andrew Gottlieb, founder and CEO of Talari Networks. "Talari's innovative approach and technology combines multiple sources of public Internet bandwidth in parallel to deliver the same, or better, quality than expensive WAN bandwidth, enabling enterprises to reduce WAN expenses by up to 90 percent."
Adaptive Private Networking
Talari Networks' Adaptive Private Networking (APN) technology for WAN Virtualization offers a revolutionary approach to building enterprise WANs. APN uses RAID-like methods, overlay networking techniques and end-to-end algorithms to do dynamic, real-time, per-packet traffic engineering, combine diverse sources of IP bandwidth – inexpensive public Internet connections and/or private networks such as MPLS – into a greater, more reliable whole. By continually measuring loss, latency, jitter and bandwidth utilization, APN adapts to variations in network traffic flow virtually instantly to ensure reliable, predictable application performance leveraging all available bandwidth sources. APN solves the reliability problems often associated with running VoIP and videoconferencing on shared IP WANs, and can be used to seamlessly add bandwidth and reliability to existing MPLS networks.
Pricing and availability
The Talari Networks Mercury T750 will be available January 17, with a suggested list price of $21,995.
About Talari Networks
Talari Networks' WAN Virtualization technology does for Enterprise WANs what RAID did for storage – delivering a network with 30 to 100 times the bits per dollar, ongoing WAN costs reduced by 40% to 90%, and greater reliability than existing corporate WANs – bringing Moore's Law and Internet economics to Enterprise WAN buyers, outsourcers and MSPs for the first time in more than 15 years.