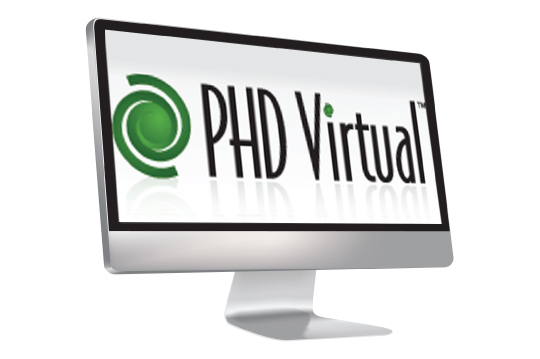 PHD Virtual Technologies, a pioneer in virtual machine backup and recovery, and innovator of virtualization monitoring solutions, announced today its enhanced PHD Virtual Backup 6.1, the purpose-built backup appliance for improved data protection at a fraction of the cost of competitive solutions.
With the release of PHD Virtual Backup 6.1, users have access to the most feature-rich, easy-to-use backup solution to help satisfy their business continuity needs. Designed from the ground up as an exclusively virtual solution, additional functionality includes the following:
Rollback Recovery for Immediate Data Access
With the latest PHD Virtual Backup 6.1, users can get their virtual machine back in minutes with Rollback Recovery. Instead of a lengthy, full VM restore process, you can simply roll a VM back to an earlier state by restoring only the virtual disk changes over top of the existing VM, resulting in a substantial decrease in RTO for a full VM recovery.
PHD Instant Recovery Eliminates Downtime Permanently
PHD Instant Recovery (for VMware) is now extended to Full/Incremental backup modes to help reduce and eliminate downtime. By using the Full/Incremental backup mode, individuals are able to back up to network shares or deduplication appliances and leverage PHD Instant Recovery to drastically decrease RTO and effectively test backups.
PHD Instant Recovery allows users to make an application available as quickly as possible in the event of a failure, without the need for additional infrastructure or a lengthy restore process.
Reporting Enhancements Reduce Risk and Ensure Compliance
Many organizations are required to report on backup status and data protection risks to upper management and regulatory bodies for compliance purposes. PHD Virtual has enhanced the reporting capabilities of the VBA to meet these needs. The first enhancement allows users to track backup status more easily across the entire environment by exporting the job history as an Excel report. The second enhancement provides a simple to use inventory report that monitors data protection risk by displaying all VMs in the environment and the date of their latest available backup.
Job Copy Accelerates Backup Scheduling
With the click of a button, users can now select a backup job and copy it as many times as needed, spending less time creating and scheduling backup jobs. This accelerates the backup job creation process, allowing users to scale even more easily than before.
"This latest version builds on our unique patented virtual appliance architecture to deliver our most powerful backup product to date," said Joe Noonan, Senior Product Manager, PHD Virtual. "We have expanded the unmatched value of our award-winning data protection software for an even faster and 'set it and forget it' solution for the virtual environment – something our users demand."
Like its predecessor, PHD Virtual Backup 6.1 provides customers with the scalability and flexibility they need and makes the backup process easier to manage and more efficient, while also providing fully recoverable data at a moment's notice.
"PHD Virtual continues to take the pain out of virtual machine backup and recovery. Its new rollback recovery delivers the type of instantaneous recoveries that users increasingly need to provide in their virtualized environments," said Jerome Wendt, DCIG Lead Analyst and President. "This new functionality, coupled with its enhanced reporting capabilities and more flexible backup job scheduling features, puts organizations on a path to more confidently protect their growing virtualized infrastructure."