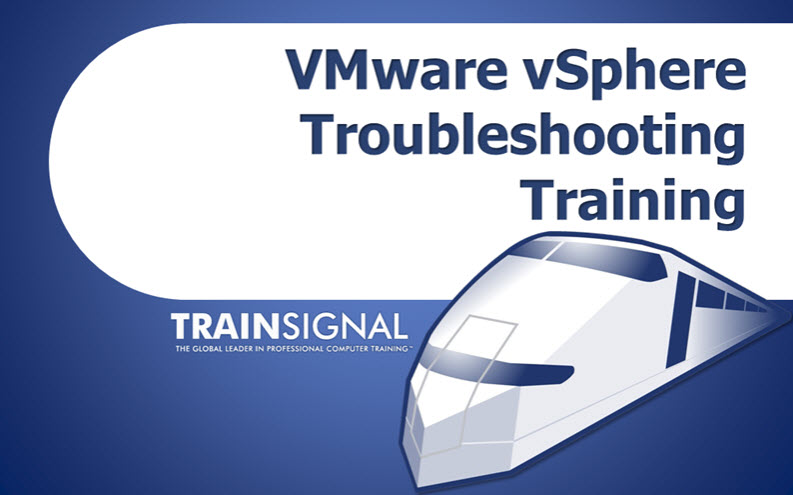 Train Signal's VMware Troubleshooting course covers the objectives in the Advanced Troubleshooting section of the VCAP-DCA certification exam blueprint
Train Signal, Inc, the global leader in professional computer training, announced the release of the new VMware vSphere Troubleshooting training.
VMware is an industry leader in the rapidly growing virtualization and cloud infrastructure markets; VMware's vSphere is a complete datacenter virtualization platform that offers maximum flexibility, efficiency, and dependability through public or private clouds. Comprising both application services and infrastructure services, as well as a central point of control for virtualization management, vSphere offers everything necessary to turn an ordinary datacenter into a fully realized cloud computing infrastructure.
The vSphere Troubleshooting Training from Train Signal is designed for system administrators and engineers who need the knowledge, skills, and ability to troubleshoot vSphere deployments of any size. The vSphere troubleshooting course offers 30 lessons and nearly 14 hours of content on 2 DVDs, including hands-on exercises and lab work that turn theory into practice.
The training highlights skills required to solve real-world vSphere problems. Students learn how to troubleshoot all the virtual infrastructure resources including processor, memory, storage and network resources. In addition, the course covers troubleshooting advanced vSphere features like VMotion, VMware High Availability (VMHA) and VMware Distributed Resource Scheduler (DRS). "Our goal with this new training was to help current system administrators and engineers perform advanced troubleshooting and solve all types of vSphere problems, from the most common ones to the most obscure," said Gary Eimerman, Director of Product Development at Train Signal.
David Davis is the vSphere Troubleshooting Training instructor. Davis has been in the Information Technology industry for over 18 years and is a VMware Certified Professional (VCP). He has also been recognized as a VMware vExpert, a designation awarded to people who have given back to the VMware user community by sharing their technical expertise in VMware virtualization solutions.
In addition, to his expertise in VMware and virtualization, Davis holds certifications from Cisco (CCIE) and Microsoft (MCSE) as well as a Certified Wireless Networking Administrator (CWNA) certification. He has written hundreds of IT articles on the Internet, written for Virtualization Review magazine, and presented information on virtualization at conferences in the USA, Canada, and Europe. This deep background and diversity of skills provides a powerful learning resource that can't be matched.
One of four courses recommended for VCP certified professionals seeking the VMware Certified Advanced Professional – Datacenter Administrator certification, Train Signal's VMware Troubleshooting Training covers the material outlined in section six of the VCAP4-DCA exam blueprint from VMware. The material covered in the class makes up approximately 35 percent of the topics tested to earn the VCAP-DCA certification. While the course covers all of the troubleshooting exam topics, the emphasis is on providing students with real-world knowledge and skills used in the everyday world of vSphere administration.
"Troubleshooting is definitively the biggest chunk of the VCAP-DCA exam, and my new training will prepare you not just for this part of the exam, but for the day-to-day, real-world, problems you are dealing with in your vSphere infrastructure," said David Davis (VCP, vExpert).
The VMware vSphere Troubleshooting Training is offered for $397 and comes with Train Signal's Risk-Free 90-Day Total Experience Guarantee. Students who enroll in the course receive DVDs in the mail, but have instant access to all training materials online 24-hours a day. Online access ensures that students can get started learning right away and have access to their course materials from any computer with Internet connectivity. In addition, all materials are provided in a variety of formats including iPod Video, MP3 audio, WMV and high-quality AVI video files, which allows students to learn using almost any device they choose.
About Train Signal: Founded in 2002, Train Signal provides computer-based "Total Experience" training that gives individuals the tools and confidence to tackle real-world challenges, pass their certification exam and succeed in today's competitive global IT market.
Train Signal offers a wide range of computer training packages covering Microsoft, Cisco, CompTIA, VMware, and Microsoft Office. In addition to its Windows Server 2008, Exchange Server 2010, and SQL Server 2008 courses, Train Signal offers training for over fifty different training courses including: VMware vSphere training, Cisco CCNA training, Windows 7 training, and more.