In preparation for VCP-510 exam since I passed VCP4 couple of days ago, I am in process of upgrading my vsphere 4.1 home lab to vSphere 5.0 and started upgrading vCenter yesterday. Apparently, during the initial installation, as vCenter 5 install is about to complete, it gave me an error:
Installation Completed
The Wizard was interrupted before Vmware vCenter Server could be Completely installed.

Please Refer to the log files vim-vcs-msi.log under the c:\users\username\AppData\Local\Temp\2\ or its subfolders. Please try again after you have resolved the problems.
And the vim-vcs-msi.log displays a lot of information, including this:
VM_StartTomcatImmediate returned actual error code 1603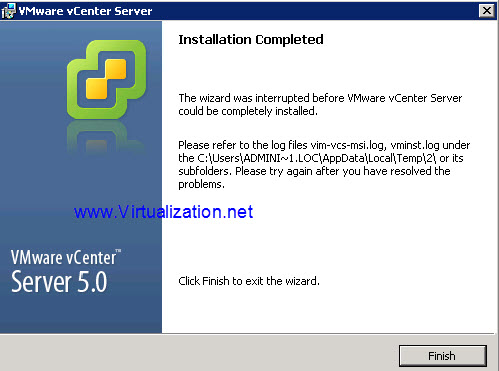 You can try deleting the temporary install folder under the Temp directory but what fixed the issue for me was that the username and password which vCenter services were using to start was the LOCAL account rather than the domain account. So, in your windows server, open Administrative Tools > Services and go to:
VMware VirtualCenter Server
VMware VirtualCenter Management Webservices
Hit the LOG ON tab for each service mentioned above and change the username that its using to a proper domain account. After making the changes, you should be able to start the vCenter 5 services and connect to it using the vSphere client.
The above fix worked for my lab environment which maybe different from yours. Please backup your vcenter database, etc. before making any changes or upgrading. If you have any questions or comments be sure to post them in our Virtualization Support Forums!