Ever since VMware introduced VSAN, I've been anxious to test it out, deploy it in my lab and see what it does and how it functions. Few months ago one of my Dell Poweredge 1950 GenIII server died so I was considering upgrading my home virtualization lab anyway… if you are like me, we just need an excuse to upgrade, right?
I know there are many good options out there, like using Intel NUC or Shuttle PC or even nested ESXi in VMware workstation. Even though those options allow you to test a lot of what esxi has to offer but when it comes to flexibility and the feel, one might not be comfortable using low-end, PC grade equipment to test datacenter technologies. I appreciate guys who've gone out and done that but I personally do not feel comfortable and prefer having datacenter grade equipment with some level of flexibility at my disposal. Some prefer getting there on a Yugo and others prefer something more refined, civilized and polished and I picked latter as my choice of hardware for home lab. I like working with what I know will work, not hack it and use unconventional methods, which you would never use at your workplace or in a datacenter environment. Furthermore, having a 12U cabinet to rack the servers helps make which equipment to buy decision a lot easier.
As I've blogged before, I've had a home lab in one form or another for last 14+ years but here are previous articles on my virtualized home lab and how it evolved over the last 4 or 5 years:
Home Lab Diagram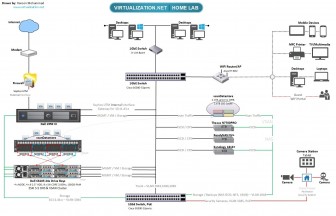 Server Hardware
For server piece of the puzzle, I was looking at Dell R610/R620s for a long time but with the ebay market beign flooeded with high density cloud servers from Dell, HP and Supermicro, I opted for the Dell C6105 Cloud Server with 24 drives option. Yes, the CPU is AMD but it does the job just fine and it is a lot cheaper than Intel based servers so for a home lab and keeping affordability in mind, this is a good option.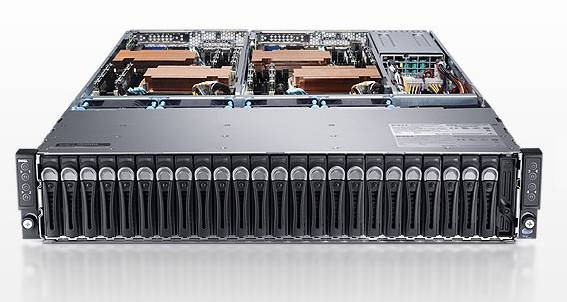 Here are the full specs:
DELL POWEREDGE C6105, 2U RACKMOUNT SERVER WITH 4 NODES INSTALLED,
8x 300GB 10K 2.5″ SAS HARDDRIVES,
4x Intel DC S3700 Series 200GB (for vSAN cache)
16x 2.5″ HARD DRIVE TRAYS WITH SCREWS,
DUAL 1100W POWER SUPPLIES,
ONE SET OF 4 POST RACK RAILS,
Each Node has:
DUAL AMD OPTERON 4332 HE 3GHZ SIX CORE CPU'S, (8 CPU'S TOTAL),
64GB MEMORY, (256GB TOTAL MEMORY),
DUAL GIGABIT ETHERNET,
1x ON BOARD IPMI 2.0 REMOTE MANAGEMENT PORT,
1x LSI 9260-8i CONTROLLER WITH BATTERY BACKUP, (4x TOTAL),
1x DELL QUAD-PORT GIGABIT ETHERNET MEZZANINE CARD, (4xTOTAL)
Networking Hardware

For the network piece of the puzzle, I am using Cisco 3750G and also bought a Cisco SG300-52 Small Business Gigabit Managed Switch SRW2048-K9 switch from ebay. The price, feature set and the web based interface to manage the switch makes this one of the best options out there if you are looking to upgrade from Cisco 3750G. One of my 2 3750G switches is dead, other one has a bad fan so the 3750 line has served me well over the years but it was time to give them a break. I am hoping that in next few years 10GbE becomes affordable so that will be next step up for my lab.
Storage (SAN/NAS)
Now we come to the most important piece in any virtual environment – the Storage! As you can probably see in the diagram, the lab has a varity of storage options available, from an 9 year old Netgear ReadyNas NV+ to Synology DS1813+  with 4x 4TB Seagate Eterprise 7200RPM SATA drives and VMware vSAN. The lab has a few storage options, like the Thecus N7700PRO which is serving as primary backup and FTP storage for home use and NFS datastore. I use Thecus N7700PRO NAS to backup VMs, sync mobile device storage, network scanning storage, etc.
The primary datastore for the virtual datacenter is the VMware vSAN, Synology DS1813+ and for some VMs, I also use local storage.
It was quite a challenge deciding which SSDs and hardware to get which is on VSAN HCL as well as affordable. So, after couple of weeks of research and a lot of reading, I decided to get a server with at least 4 nodes and 24 hard drives bays which would allow me to test couple of different VSAN configurations. My current configuration consists of, 2x 300GB 10K disk drives (8 total) and 1x 200GB Intel DC 3700 SSD for each host (4 total). I plan on adding 8 more 1TB NL-SATA or 900GB 10K SAS drives along with 4 more Intel DC 3700 SSDs for cache.
Here is is what the virtual storage and VSAN configuration looks like:
After using it for a month or so, made couple of mistakes, discovered some new features and how easy it is to deploy and use, it really is an amazing product. For a low-end, commodity hardware, it offers awesome performance and datastore space.
Baring any unforeseen circumstances, I plan on using this lab for next few years. If you have any questions or comments be sure to comment below or contact me here or look me up on linkedin.